FINANCING & LEASING OPTIONS
NO CREDIT NEEDED LEASE-TO-OWN OPTION
We now have 2 payment options for our customers. One is a No Credit Needed available through Progressive Leasing. 
For Progressive Leasing's No Credit Needed option, the requirements and approval amounts are listed below. You can also apply for free right now and get an immediate decision. If you happen to be approved for a lower amount than the item you want to purchase or are denied, please give the store a call or text as we often are able to work with Progressive to overturn a denial or increase the approval amount.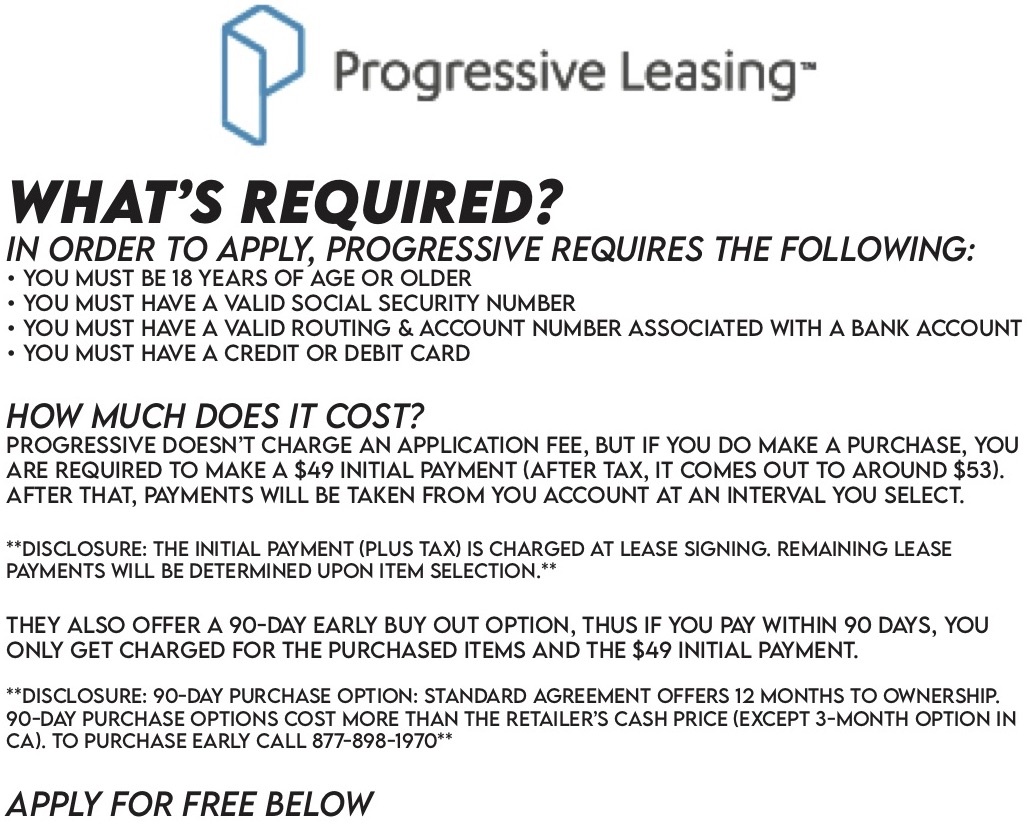 Click here to apply for Progressive Leasing
DISCLOSURE: THE ADVERTISED SERVICE IS A RENTAL- OR LEASE-PURCHASE AGREEMENT PROVIDED BY PROG LEASING, LLC, OR ITS AFFILIATES. IT IS NOT A LOAN, CREDIT OR FINANCING. WHILE NO CREDIT HISTORY IS REQUIRED, PROGRESSIVE OBTAINS INFORMATION FROM CONSUMER REPORTING AGENCIES IN CONNECTION WITH LEASE APPLICATION. ACQUIRING OWNERSHIP BY LEASING COSTS MORE THAN RETAILER'S CASH PRICE. NOT AVAILABLE IN MN, NJ, VT, WI OR WY. MERCHANT PARTICIPATING LOCATIONS ONLY. LEASING AVAILABLE ON SELECT ITEMS. NOT ALL APPLICANTS ARE APPROVED. SEE LEASE FOR DETAILS.
The other is an option that does require credit approval through Synchrony Financial. You can get more info about the Synchrony credit based option in store or by calling 480-656-7405 or texting us at 480-465-9956.
You can also apply online for instant approval from Synchrony!!!
Click here to Apply for The Best Deal in Town Credit Card, Powered by Synchrony